Fall Festival of Fun

Cobb County Parks, Recreation and Cultural Affairs Department along with Cobb County Public Safety, Safe Kids Cobb County and Cobb County 4-H are hosting the 12th Annual Fall Festival of Fun on Saturday, October 29th at the Cobb County Safety Village. The event will begin at 4:00pm and end at 7:00pm. This event will provide the children of Cobb County a safe alternative to the traditional Trick-or-Treat in their neighborhoods.

The festival will include arts and crafts, games, inflatable rides, Police and Fire activities, costume and coloring contests, a photo booth and other surprises. Parking, entrance to the park, games, candy and contests are free (there is a fee for concessions and inflatable rides). Come wearing your halloween costume and be sure to bring a bag to carry all of your candy!
Tod Cushman Awarded "Volunteer of the Year" by GRPA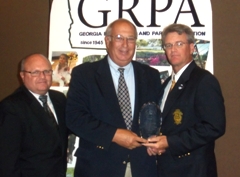 At the recent 2011 Georgia Recreation and Parks Association annual conference, Tod Cushman, of the Eastside Baseball Association, was presented the "Volunteer of the Year" award for his dedication and services to the Eastside Baseball Association.
Tod is in his 37th year of volunteering at Eastside Baseball. He has held nearly every position on the board of directors and he is seen at Fullers Park almost every day preparing the fields for play. It is through dedication and support of volunteers like Tod that helps East Side Baseball to be recognized as a top quality program. He was also named "Volunteer of the Year" by Cobb County in 1999. Tod is a true friend to the Parks and Recreation family and his recognition is well deserved!
2011 'Fun in the Park' Photo Contest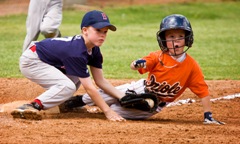 The entry deadline is nearing for the 2011 'Fun in the Park' photo contest. As you are out enjoying Cobb County Parks, Recreation and Cultural Affairs' parks and activities, be sure to bring your camera and capture the fun and memories of your sports activities, the beauty of nature and wildlife in the parks, and anything else that shows why you enjoy your day at the park. The 7th Annual 'Fun in the Park' Photo Contest will be accepting entries throughout the fall. Enter up to 10 of your best shots for fun and awards! Open to all photographers. Digital and print photos accepted. See rules and download entry form below at the photo contest web page. The deadline for entry is November 3rd.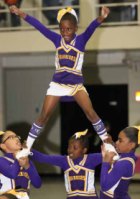 Cheer Fest '11 at Cobb Civic Center
Cobb will host the 4th Annual Cobb Cheer Fest at the Cobb Civic Center. This competition will be held on Sunday, November 6th. The Cheer Fest is an opportunity for recreational cheerleaders ages 5-14 to compete in cheer and dance.  Each team will have 2 minutes and 30 seconds to perform their routine that can be set to music.  Awards will be given to teams and individuals of the top three teams in each age category. Spectators are encouraged to support their favorite teams. The entry deadline for teams to compete is October 26th.  For more information, please contact Wendy Collins or call (770) 528-8885.
Life Saved at Al Bishop Complex
All Cobb park facilities and many other Cobb government facilities are equipped with an Automatic External Defibrillator (AED). It is the hope that none of them will have to be used, but it is good to know there is one available if needed. Such was the case recently at the Al Bishop Softball Complex when a 41-year-old male collapsed while chasing down a fly ball in foul territory. Upon the arrival of teammates and parks personnel, he exhibited no pulse or breathing. The facilities' AED unit was immediately secured from the central building. There were spectators at the park who had been trained in the medical field and who took over administering the AED. A faint pulse and breathing were restored, and CPR was performed until Cobb County Fire EMTs and ambulance personnel arrived to take over. The player was transported to Wellstar Cobb Hospital where he had surgery, but has since been released and is recovering. This marked the second time since the AEDs were supplied several years ago that the one at Al Bishop Complex has been put to use. In both instances, the players were successfully resuscitated and today are walking examples of the need for and effectiveness of the AED units.   
Cobb Tennis League - a Tennis League for Everyone!!!!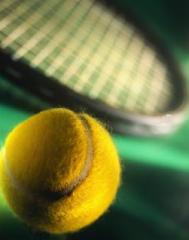 The Cobb Tennis League is a league where you compete against other players of similar ability. The league is for adult tennis players, with ability levels ranging from NTRP 2.0-5.0.  The 2.0 level is a great opportunity for players who consider themselves 'true beginners' and are experiencing league tennis for the first time. Players register individually and are matched against other players at their ability level.  This is a flex league where you play when it is convenient for you and you can play anywhere in Cobb County where there are tennis courts (parks, clubs, or subdivisions).  There are two seasons each year, a spring season and fall season.  The fall season begins October 24th. The Cobb Tennis League is a great way to enjoy fun competition and to meet new people!!!  Registration for the fall league is currently in progress.  The entry deadline is October 17th.  For more information and registration brochure, see the Cobb Tennis League web site .

Family and Dog-friendly Day of Music and Fun
Atlanta Boxer Rescue, Inc., will hold its 4th annual Boxerstock music festival on Sunday, October 23rd, from 12:00pm-6:00pm, at Jim Miller Park. Boxerstock is a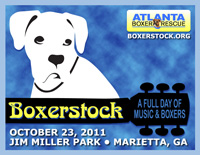 family and dog-friendly event. Well-behaved dogs of all breeds are welcome (must be on leashes).
This year's event features artists from a variety of musical genres to suit all musical tastes. Other planned events include children's activities, a silent auction, a dog costume contest and canine demos. Food, drinks and a variety of merchandise from vendors will be available for purchase. Atlanta Boxer Rescue volunteers will be on hand to answer questions and provide information about adopting, fostering or volunteering. "Atlanta Boxer Rescue provides adoption services, fostering and education to aid boxers. The 4th annual Boxerstock has a truly exciting lineup of musicians, and we're especially happy to have Victoria Stilwell of The Animal Planet's 'It's Me or the Dog' here this year", said Lisa Demma, president of Atlanta Boxer Rescue. "The funds we raise at Boxerstock, our largest annual fundraiser, will allow us to continue our boxer rescue efforts."
More information about Boxerstock, including sponsorship opportunities, musician lineup, directions to the event and a full schedule can be found at www.boxerstock.org. Tickets for the event will be available at the gate at full price, and on the Web site at a discounted price prior to the show.
Upcoming Events
The Art Station - Big Shanty

October 1-14

Gallery Exhibit

Pin-up Show

Come check out our Pin-Up Show featuring all different types of mediums on the walls of our gallery. Artwork is also for sale.

October 14 & 15

Workshop

Decorate a Pumpkin
Ages 2 – 13
Fee: $5 per student
Friday, October 14 from 3:30pm-5:00pm (47862) or

Saturday, October 15 from 10:30am-12:00pm (47863)
Bring your own pumpkin, we will provide the paint, and together we can create a BOOtiful masterpiece for Halloween. Come anytime between 3:30pm and 5:00pm; it usually takes about 30 minutes to create the project. Adult must stay with child. Registration is strongly encouraged as space is limited.

October 17-28

Gallery Exhibit

Life Thru the Viewfinder

This is Cobb County's 9th annual juried competition for amateur senior photographers hosted by the East Cobb Senior Center. The winning pieces will be displayed in our gallery for the public to come view. Visit

www.cobbseniors.org

for more information about entry into the competition.

For more information about upcoming events at The Art Station - Big Shanty, see their website at artstationcobb.org.

The Art Place - Mountain View

October 6-28

Gallery Exhibit

A Family of Artists

Featuring artworks of Nancy Jordan, Tom Jordan and Jessica Jordan


October 7-9, 14-16, 22-24

Theatre Performance

"Noises Off"
Presented by Centerstage North Presents
For tickets for 10/7-9, see website.

For ticket for 10/14-16, 22-24, see website.

October 26-30

Theatre Performance

British Academy of Performing Arts
Fall Musical
www.bapa.us

Mable House

Arts Center

October 12-Nov. 16

Gallery Exhibit

Artist Guild of Northwest GA

A mixed media show and will feature a variety of work.

October 15

Concert

Blair Crimmins and the Hookers
Free Candlelight Concert
Showtimes are 8:00pm-10:00pm rain or shine. Bring the family and enjoy a great show! Tables that seat 4 people are on sale for $50. To reserve a table, call the Mable House Arts Center at (770) 819-3285.

October 22

Festival

Storytelling Festival
11:00am-4:00pm

Old fashioned family fun, with storytellers, hayrides, music, children's craft projects, blacksmith, weaver, quilters, corn husking, puppet shows, panning for gold, old fashion games, petting zoo (12:30pm-2:30pm), and pony rides (11:00-1:00pm).

For more information about upcoming events at The Mable House visit www.mablehouse.org.

Civic Center -

Hudgins Hall

October 13-15
Mistletoe Market
Junior League of Cobb-Marietta
Wednesday (Preview Night) 6:00pm-9:00pm / admission $20
Thursday 9:00am-6:00pm / admission $8
Friday 9:00am-6:00pm / admission $8
Saturday 9:00am-4:00pm / admission $8
10 & under free
www.jlcm.org

Jim Miller Park

October 8-9

Southeastern Agility Dog Trials

Octber 14-15

Cobb County Classic Rodeo

begins at 8:00pm

Adults $15.00/Children $12.00/Under 5 free

For information, call (770) 684-7277

October 14-16

Cobb County Library Book Sale

Friday - Saturday - 9:00am-5:00pm

Sunday - 1:00pm-5:00pm

For information, call (770) 528-2342

October 23

Boxerstock 2011 Music Festival

12:00pm-6:00pm

Adults $10.00/children and students $5.00

For information, see website - www.boxerstock.org

Tennis
October 28-30

Lost Mountain Halloween Fright Festival

Lost Mountain Tennis Center

Charity Tournament

Youth and Adult events

Entry deadline: October 22

October 28-31

Terrell Mill Open / Senior Singles Classic

Terrell Mill Tennis Center

Adult / Senior events

Entry deadline: October 25
Program Registrations

Get PINned - Conveniently register for parks programs from your home or office with EZ-Reg.  A Personal Identification Number (PIN) and Internet Log-in number are required to register using EZ-Reg. To get PINned, visit any Cobb County Parks, Recreation and Cultural Affairs facility during normal operating hours and complete a Family Account Registration Form. You must show proof of residency.  Tip: Do not wait until the day of registration to get your numbers - you may get shut out from your course.  Be sure to get PINned in advance to take advantage of EZ-Reg online registration.

Program

Registration begins

Location

Arts Classes
in progress

Fall Classes

E-Z Reg Online

in progress

Fall Classes

E-Z Reg Online

in progress

Fall Classes

E-Z Reg Online

Aquatics Classes

in progress

Fall Classes

EZ-Reg Online

in progress

Fall Classes

EZ-Reg Online

in progress

Fall Classes

EZ-Reg Online

in progress

Fall Classes

EZ-Reg Online

Gymnastics

October 16 at 2:00pm

Cobb Gymnastics Center
Fall Classes (session 2)

EZ-Reg Online

Tennis Classes

in progress

All Cobb Tennis Centers
Fall Classes

EZ-Reg online

Tennis Leagues

in progress

Winter USTA Junior League Tennis

All Cobb Tennis Centers (except Terrell Mill)

EZ-Reg online

Entry deadline: November 27

in progress

Cobb Tennis League

EZ-Reg online

Entry deadline: October 17

Recreation Centers Classes

in progress

All Cobb Recreation Centers
Fall Classes

EZ-Reg online

Therapeutic Recreation Classes and Programs

in progress

Fall Programs

EZ-Reg online

For information, call (770) 819-3215.
Lost Mountain Tennis Center to Host Charity Tournament
Lost Mountain Tennis Community Tennis Association will host the 3rd Annual Halloween Charity Tennis Tournament October 28th-30th. The tournament will be held at Lost Mountain Tennis Center. The events include singles, doubles, mixed doubles, and parent-child events. All proceeds of the tournament will benefit Mostly Mutts Animal and Pet rescue and adoption. On October 29th, there will be a pet adoption at Lost Mountain Tennis Center. Contact Traci Thomas for more information at (770) 528-8525 or email at traci.thomas@cobbcounty.org.
Frank Breeden Softball Classic
The Cobb County Parks, Recreation and Cultural Affairs Department TRS Unit and Special Olympics GA-Cobb recently held the Frank Breeden Classic Softball Tournament at the Al Bishop Softball Complex. The weather was perfect for competition between 18 teams from Georgia and South Carolina. Congratulations to the following teams for their outstanding performances: Masters Traditional: Champions - Macon-Bibb Allstars, 2nd place - Florence County, SC. Tigers, 3rd place - Cobb County Stealers; Masters Unified: Champions - Douglas County Red Dragons, 2nd place - Cherokee Elite, 3rd place - Kay Center Tigers (Fort Valley); Masters Modified: Champions - Macon-Bibb Superstars, 2nd place - Douglas County Blue Dragons, 3rd place - Cherokee Extreme. Volunteer umpires were provided by the North Georgia Amateur Umpires Association. Food donations were provided by Williamson Bros. BBQ, Pasta Bella, Blue Moon Pizza, Chili's (Austell), QTG- Atlanta Campus (sports drinks). Many thanks to all who helped make this event fun and successful!

Exciting Classes Offered at Ward Recreation Center This Fall
Ward Recreation Center is offering a full slate of diverse and exciting classes and activities for the fall. Classes include affordable Piano Lessons for adults and youth, Dance Classes for all ages, ZUMBA and ZUMBA Gold classes, and Choi Kwang-Do martial arts classes. There is a free class this fall - Traditional Shaolin Kung Fu martial arts and for the youth basketball player, we offer the Powder Springs Basketball Skills Academy. For more detail on all the classes, see our website or call Ward Recreation Center at (770) 528-8885.
'Cobb Christmas' Charity Tennis Tournament
Sweetwater Tennis Center will once again host the 'Cobb Christmas' Adult Classic Tennis Tournament November 4th-6th. The "Cobb Christmas" Inc. organization is committed to helping provide Cobb County's low-income and working poor families with a memorable holiday experience for their children during the Christmas holiday. The charity has provided food for more than 1,100 families and toys for more than 3,000 children. To participate or for more information on the tournament, see the tournament website. The tournament registration fee is $12 plus an unwrapped toy. The entry deadline is October 31st.
Upcoming Events at Mable House
Free Family Fun - It's time for Storytelling Festival again! Bring the family on October 22nd to the annual festival that is full of fun and history. We will have storytellers, crafts, a petting zoo, live music, tours of the historic house and so much more. This could become an annual tradition for your family. The festival hours will be from 11:00am-4:00pm. For more information please call (770) 819-3285.
Beauty and the Beast JR - Beauty and the Beast JR. will be presented by The Theatre Project at the Mable House Barnes Amphitheatre. The show dates are November 4th at 7:00pm, November 5th at 7:00pm, and November 6th at 3:00pm. Tickets are $5.00, children 12 and under are free. You can also enjoy this experience by purchasing a table for $30.00. Tables seat 4 people. Bring dinner and the family and enjoy an evening that is sure to bring excitement. Tickets and tables will be on sale starting October 3rd.  You can purchase tickets and tables by calling (770) 819-3285 or coming to Mable House Arts Center. We hope to see you there!
Tea Room Reservations - It is almost that time of year again. Christmas will be here before you know it. Many people have made a yearly tradition of shopping at Christmas House and eating at Mable's Tea Room. Mable House Arts Center will begin taking reservations for Mable's Tea Room on October 3rd. There is no cost to make a reservation; you only pay for what you order. You can make reservations by calling (770) 819-3285 or by coming to Mable House Arts Center.