| | |
| --- | --- |
| Cobb County Parks, Recreation and Cultural Affairs Department offers tennis programming that suits anyone who is interested in the game. Cobb has 122 tennis courts located throughout the county. With 6 full service tennis centers and 13 additional satellite tennis facilities, there is sure to be a tennis court in your area. Programs are offered for the newest beginner to the highest level of play - Cobb's tennis program is ready to help you hit the tennis courts. | |
---
Tennis Centers
Cobb's Tennis Centers are open for public play with nominal court fees. The tennis centers are also the hub of our programming, with instruction, league and tournament play, and social round robins. For information on programs or for court reservations, contact the tennis center in your area.

Satellite Park Tennis Courts
Tennis courts located throughout the county available for free play. While there is limited programming at these parks, most of the court time is available for play on a first-come, first-served basis. Each park has 4 lighted tennis courts.
Click on park name for map

---
Fall Tennis Classes
Registration in progress
EZ-Reg online registration available for tennis classes.
Learn to play tennis!!!! We offer tennis classes for entry level beginners. If you ever wanted to learn to play tennis, this is where you begin.
Fall Session
Classes begin: weeks of September 8th and October 27th
Classes meet 1 hour per week (1/2 hour for tots classes) for 6 weeks.
Cost: $72 ($97 for non-residents)
Tots Classes: $36 ($61for non-residents)

Classes begin weeks of September 8th and October 27th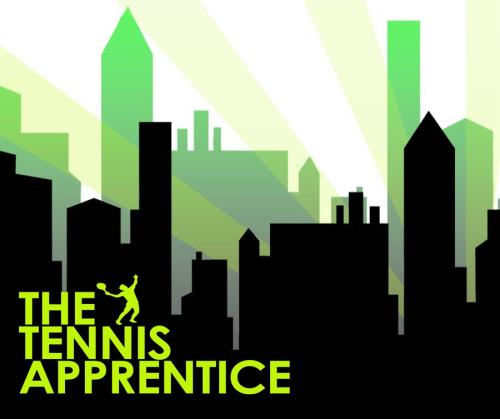 USTA Atlanta and Cobb Tennis Centers present
Tennis Apprentice
New introductory program to tennis for adults!


$49 registration Fee per Person. Your fee will include:
· USTA Membership· Wilson Tennis Racket
· 6 Weeks of Instruction & Coaching from Experienced Professional
· USTA League Registration (2.5 or 3.0 Beginner)
· End of the Year Round Robin

Click Here To Sign Up!
New Game in Town - Pickleball
Lost Mountain Tennis Center will be offering a new program called PICKLEBALL. We will provide some equipment that includes paddles and balls. If you have your own, feel free to bring them. The goal is to introduce players to the game and to schedule some play dates!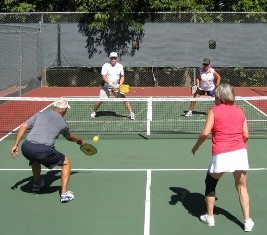 Pickleball is a sport played with a hard paddle and wiffleball. The game combines elements of badminton, tennis, racquet ball and ping-pong, and is played on a badminton-sized court. It is played as a singles game with one person/side or as a doubles game with 2 people on each side of the net. The object of the game is to score points by successfully hitting a 3" diameter plastic ball across the net without it being successfully returned by the opponent.

Pickleball is a simple game designed for all ages and any athletic ability level. Today the sport is played by people all across the U.S. Many seniors have taken up the sport in their retirement years but it is also played by thousands of school children and top athletes in their 20s and 30s. It is an easy sport to learn and most everyone can play the game after just a short time of hitting the ball back and forth across the net. However, it is also a sport where you can keep learning new strokes and increasingly sophisticated strategies for years on end. As the sport has grown in popularity it has continued to be played in back yards but it has also spawned many competitive tournaments across the country.
Classes for Pickleball are offered at Lost Mountain Tennis Center. For more information, call Traci Thomas at (770) 528-8525. To learn more about Pickleball, see the US Pickleball Association website. Come join the fun!
Looking for a Team?
Players looking to join an ALTA or USTA team can fill out a general information form (link below) to be placed on a contact list. Teams are formed every season.
---
Cobb's Award-Winning Tennis Program: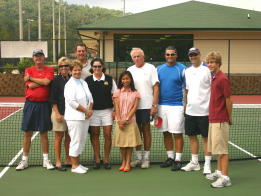 Harrison Tennis Center awarded 'Organization of the Year' for 2010 by USTA-Georgia.

Steve Lottinger, the facility manager at Harrison Tennis Center, received the '2009 Ace Award' by Special Pops Tennis.

Harrison Tennis Center named 'QuickStart Facility of the Year' for 2009 by USTA-Southern.
Lost Mountain Tennis Center named 'Tennis Club of the Month' for February 2009 by the Tennis Players Network.
Harrison Tennis Center winner of the 'QuickStart Award' for 2008 by the USTA Southern Section.
Harrison Tennis Center awarded 'Organization of the Year' for 2007 by USTA-Georgia.

Lost Mountain Tennis Center awarded 'Outstanding Tennis Facility for 2006' by the United States Tennis Association

Harrison Tennis Center awarded 'Outstanding Tennis Facility for 2004' by the United States Tennis Association

Lost Mountain Tennis Center awarded 'Organization of the Year' for 2004 by USTA-Georgia.

Harrison Tennis Center awarded 'USA Tennis Facility of the Year' for the USTA Southern Section in 2004

Harrison Tennis Center awarded 'Organization of the Year' for 2003 by the USTA-Georgia

Cobb County Parks, Recreation and Cultural Affairs awarded by USTA-Georgia the 'Parks and Recreation Department of the Year' for 2000

Cobb County Parks, Recreation and Cultural Affairs named as 'The Place to Play' for parks and recreation tennis by the Atlanta Journal-Constitution for 2000