April 19th
The 2014 Hunt - Cobb's Largest Egg Hunt
Cobb County's Largest Egg Hunt will take place on Saturday, April 19th, at Jim Miller Park in Marietta. The event begins at 10:00am and ends at 2:00pm. The 2014 Hunt will feature children's art activities, live entertainment, inflatables, and concessions. The Easter Bunny will be on hand to delight the children and there will be contests, including the Mad Hatter Contest and Decorated Basket Contest.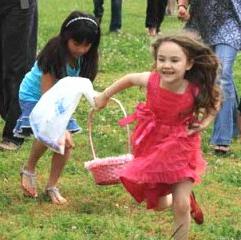 There will be five egg hunts which will be broken down into age groups. In each hunt, there will be special prize eggs. The schedule of events is as follows:

10:00am - Park opens
10:30am - 3 years & under hunt
11:00am - 4 & 5 years hunt
11:30am - Special Population's hunt
12:00pm - 6 & 7 years hunt
12:30pm - 8-10 years hunt
1:00pm - Mad Hatter's Contest / Easter Basket Contest
2:00pm - Park closes

Admission for The Hunt is free. For more information please call (770) 528-8875.