Arts | Athletics-Youth | Athletics-Adult | Aquatics | Golf | Gymnastics | Natural Resources Recreation Centers | Tennis | Therapeutics | Special Events | Special Olympics
---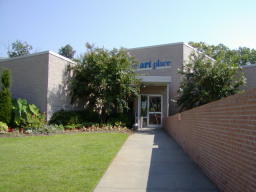 The Art Place - Mountain View


3330 Sandy Plains Road
Marietta, GA 30066

Phone: (770) 509-2700

Facility Director: Nelah Gabler

Regular Business Hours :
Monday - Thursday, 10:00am -5:00pm
Night & Weekend Hours : Night and Weekend hours depend on our class and theatre schedule. The building will be staffed and open while the facility is in use. Call ahead at (770) 509-2700.

The Art Place - Mountain View website

---
---
The Art Place - Mountain View seeks to encourage fine arts programs which will enhance and promote programs of artistic merit. The Art Place has spaces designed to be flexible for visual and performing arts activities. The facility also offers gallery exhibitions, theatre productions and meeting space for non-profit arts related activities.


The Art Place is always looking for new class suggestions and instructors. Do you have a talent that you can teach others? If so, please bring in a description of the class, a sample of your work and a list of supplies needed for your proposed class.
---