SEASONS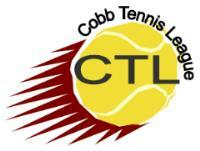 Spring Season: Begins week of April 29, 2013
Entry Deadline: April 22, 2013

Download Registration Form Here
Online Registration Available
To register online, you must have a PIN number and Log-In ID. Contact your closest Cobb Tennis Center if you do not have a PIN number. When registering online, go to the online registration link on the left menu bar and search your specific league by the following barcodes:
Mens - 60062
Weekday Women - 60063
Business Women - 60064
Online registration in progress for fall season.
FORMAT
The Cobb Tennis League is for adult singles play. The league is run in a round robin format with each participant playing all the players in their division. Winners will be determined by the most matches won in each division.

LEAGUES
Men's (weekday evenings or weekends)
Women's Weekday (Mon. - Fri. mornings)
Business Women's (weekday evenings or weekends)
ADULT LEVELS
NTRP 2.0, 2.5, 3.0, 3.5, 4.0, 4.5 & 5.0
If you have a USTA rating, you must play at that level or higher. Players may be moved up or down a level if there are not enough players in requested division. Results from league matches will not affect NTRP rating.
MATCHES
Players can choose any of the Cobb Tennis Centers as their home court facility, or they can choose any tennis facility in Cobb County where a court can be reserved, including sub-divisions, clubs, apartment complexes and other parks. (Note: If players choose a court other than a Cobb Tennis Center , the home player is responsible for any applicable court fees.) Each player will play approximately half of their matches at home and half away. Each season runs for five to seven weeks.
FLEXIBLE SCHEDULING
The Cobb Tennis League committee will schedule weekly matches. Players are responsible for scheduling the day and time. Weekday Women will play Monday through Friday mornings, and the Men and Business Women Leagues will play during the evenings or weekends. The schedule will be made for each week for pairings and match location. Before a time is agreed upon, please call the facility for court availability and reservations.
CONFLICTS IN SCHEDULING
If players cannot agree on a time, the CTL committee will set the match time. Every effort should be made by both players to play the match within the assigned week. All matches must be played no later than one week past the last scheduled date.

MATCH RULES
USTA rules will govern all play.

Each match is best of three sets with a tiebreaker played at 6-6. Regular scoring.

The home player is to bring a new can of USTA approved balls for play.

Players must contact each other in advance to confirm time, location and directions.

All match scores must be reported each week.
FEE:
$30.00
($55.00 non-Cobb County residents).
Checks payable to Cobb County Parks, Recreation & Cultural Affairs Department. Visa and MasterCard are also accepted.
SCHEDULES:
All CTL information will be posted on-line this season. You will find the link to the schedules here. You will also find rules & information to post scores.
AWARDS
T-shirts will be given to the division winners
RETURN ENTRY FORM TO:
Cobb Tennis League
Kennworth Tennis Center
3900 South Main Street NW
Acworth , GA 30101
or
Bring to your nearest Cobb Tennis Center.
LEAGUE COORDINATOR:
Mark Kirk (770) 917-5160
( Kennworth Tennis Center )