Silver Comet Trail
Cobb's first rails-to-trails project




Printable Trail Map
File Size: 163kb

Six Silver Comet Trail bridge sections closed to the public for repair this winter
Six pedestrian bridges along Cobb County's 12.8-mile Silver Comet Trail will be closed to the public this winter while Cobb County Department of Transportation (CCDOT) crews repair or replace pedestrian bridge ends over Powder Springs Creek, Lucille Creek, Noses Creek, Olley Creek, Nickajack Creek and Cooper Lake Road. The repair work, funded by the 2011 SPLOST, will result in consecutive closures of each pedestrian bridge from Jan. to April 2014, resulting in NO ACCESS and NO DETOURS across the bridges during construction. At the same time the pedestrian bridge work is being conducted, additional crews will be improving other areas along the Silver Comet Trail by repairing fences, drainage systems and grading.

"The repairs will preserve the original historic pedestrian bridges," says Faye DiMassimo, Director of Cobb County Department of Transportation. "Once the work is completed, the pedestrian bridges will be reopened providing safe access to all who enjoy using them."

Cobb County officials strongly advise the public to pay close attention to all warning signs and stay out of CLOSED construction zones, as there will be severe drop offs, some as deep as ten feet, which could cause serious injury or death to anyone ignoring the posted warnings. Not every area under construction will be completed closed off to the public. CCDOT officials warn trail users to slow down when approaching all signs, and in areas not completely closed, and for bike users, be prepared to dismount and walk through.

More work will be conducted on the Trail next spring where a rolling trail closure will occur as the entire Silver Comet trail is resurfaced. The combined projects will result in the Cobb County Silver Comet Trail looking like a new trail.

Built between 1890 and 1904, the 61.5-mile Silver Comet Trail follows the abandoned railroad line once traveled by Silver Comet train passengers traveling from Atlanta and Birmingham to New York, Philadelphia and Washington. CCDOT converted the trail into a scenic 12.8 mile paved multi-use trail in the 1990's. The County section of the trail begins in Smyrna and travels west through southern parts of the County.

Information and project updates will be posted at www.cobbdot.org or contact the project manager at james.hudgins@cobbcounty.org.

---

Cobb's section of the Silver Comet Trail is a scenic 12.8-mile multi-use paved trail that begins in Smyrna and travels west through southern parts of the county. The trail follows the abandoned railroad line once traveled by the Silver Comet passenger train.

The Silver Comet passenger train was introduced by Seaboard Air Line Railroad in 1947. Originally fitted with an observation car and sleep lounge cars, it carried passengers through southern cities like Atlanta and Birmingham to destinations in the north such as New York, Philadelphia and Washington.

As passengers traveled across the countryside, they were treated to a variety of scenic vistas. Today the rail has been converted by Cobb Department of Transportation into a multi-use trail that is designed for use by all. Casual walkers, hikers, joggers, bicyclists, inline skaters and people with disabilities can all use the trail and enjoy the same sights once reserved for the train's passengers.

Traversing six trestles and bridges, the trail offers spectacular views and direct access to Heritage Park, a natural park that includes approximately 105 acres with 14.3 acres of wetland in four separate sites. Visitors can follow the 1.7-mile walking trail to the remains of a woolen mill.

The trail will ultimately extend 57 miles through Cobb, Paulding and Polk counties, and current plans call for this section to link with other trails and allow direct access between Atlanta and Birmingham.
Trailheads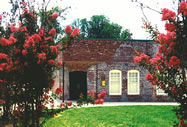 Four trailheads have been constructed offering parking, restrooms, water fountains and related amenities. The trailheads are excellent places to access the trail and begin your adventure. They are open from dawn to dusk. For individuals who reside close to the trail, it can also be accessed at numerous cross streets. Nearby residents are encouraged to walk or cycle to these locations. The trailheads are located:
Silver Comet Depot
In a building that used to serve as the old train depot, the Silver Comet Depot now offers Bicycle/Skate rentals, accessories and concessions. The Silver Comet Depot is located at the Floyd Road Trailhead (4342 Floyd Road, Mableton). Call the Silver Comet Depot at (770) 819-3279 for more information .

Safety and Etiquitte
The Silver Comet Trail is one of the top trails in the country. What was once was used for train travel is now utilized by casual walkers, hikers, joggers, bicyclists, inline skaters and people with disabilities. With such a diverse group sharing the trail, please keep follow these safety tips so your use of the Silver Comet Trail will be an enjoyable one:
Be courteous and respectful to other users.

Stay on the trail surface.

Respect the privacy of adjacent landowners.

Travel in a consistent and predictable manner.

Keep right as you use the trail. Pass on the left and give a courteous and audible signal of your intention to pass.

Stop, look and yield to traffic at crossings.

Clean up your litter - help keep the trail clean for others.

Keep pets leashed.

No alcohol, or drugs.

Cyclists and skaters should wear helmets.

Use the buddy system.

Use the trail only during daylight hours.
Although a special bicycle unit of the Cobb County Police Department enhances trail security, visitors are encouraged to use the buddy system and ride, walk or jog in pairs or groups.
For more information regarding the Silver Comet Trail, contact John Purcell at
770-528-8825.

Useful Links:
Outdoor Program Calendar
Heritage Park
Educational Programs
Wright Enviromental Education Center
Cato Enviromental Education Center
Bartlett Property
Stout Park
East Cobb Park
Corps Property
Hunting Information
Trails in Cobb Parks