About PRCA
Latest News
Events Calendar
Parks & Facilities
Programs
Photo Gallery
Employment
Contact Us
Downloads

Program Registration

General Information

Upcoming Events

Special Events
Civic Center
Anderson Theatre
Jim Miller Park
MHB Amphitheatre
The Art Place Theatre
Mable House Arts Ctr

Cobb County Parks, Recreation and
Cultural Affairs

Administrative Office:
1792 County Services Pkwy
Marietta, GA 30008
Phone: (770) 528-8800
Fax: (770) 528-8813

Hours: 8:00am – 5:00pm
Monday – Friday


Eddie Canon
Director


Terrence Ramsey
Recreation Services

Division Director
Terrence.Ramsey@cobbcounty.org

Benjie Brumbeloe
Parks Services

Division Director
Benjie.Brumbeloe@cobbcounty.org

Elizabeth Weaver
Arts/Cultural Affairs
Division Director
EWeaver@cobbcounty.org


Privacy Policy

Cobb County...Expect the Best!




Cobb County Parks, Recreation, Cultural Affairs Department
Arts | Athletics-Youth | Athletics-Adult | Aquatics | Community Ctrs | Golf | Gymnastics |
Natural Resources | Recreation Ctrs | Tennis | Therapeutics | Special Events | Special Olympics
---
Welcome!

It's hard to say there's nothing to do in Cobb County, whether you care to walk, ride, play or relax. If you like the outdoors, we have sports parks, walking trails and golf courses. If you prefer climate-controlled fun, we have indoor swimming pools, basketball gyms and even our own cultural centers. And if you just want to be entertained, world-famous acts regularly stop here to perform at our stage theatre or our outdoor amphitheatre.

We support team and individual play, coach individual excellence and sportsmanship and promote environmental awareness. Welcome to the Cobb County Parks, Recreation and Cultural Affairs Department, where fun is easy to find.
Click the banner below to view the lastest newsletter

Sign up here to receive the newsletter and county news alerts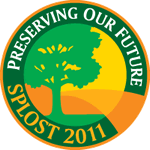 SPLOST 2011
Preserving Our Future

On March 15, 2011 referendum on a four-year SPLOST was approved by voters. This program will be in effect from January 1, 2012 thru December 31, 2015.
---

Enjoy some 'Milkshake' at free concert Saturday
Come out and enjoy a free concert by Milkshake Mayfield and the Milkshake Quartet Saturday, May 18th, as the South Cobb Arts Alliance kicks off the Summer Candlelite Concert Series at Mable House Barnes Amphitheatre. World renowned trumpeter and horn player, Milkshake has traveled the world and played with Dizzie Gillespie, Duke Ellington and Wynton Marsalis.
Gates will open at 6:30pm and the show begins at 8:00pm. Parking is free and there is no charge for the general area. No lawn chairs of any size are permitted. Bring a picnic and come early for the best seating. Food is also available at the concession stand. Tables that seat six are available for $50. The show will go on rain or shine. Mable House is located at 5239 Floyd Road, Mableton. For more information, or to reserve a table, call (770) 819-3285.
Outstanding Volunteers Recognized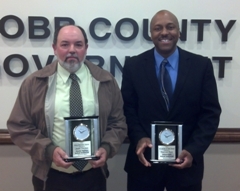 At the March 26, 2013 Board of Commissioners meeting, Jerry Thomas and Malcolm Maye were honored for their service and commitment to their youth softball programs. Jerry Thomas (left) received the Jack Demarest "Lifetime Achievement" Award" for 22 years of faithful service to the Powder Springs Girls Softball Association. Malcolm Maye (right) of Milford Girls Softball was chosen as the 2012 Volunteer of the Year as he has served as president and league coordinator for 16 years.
We are very proud to have over 20,000 volunteers supporting department programs each year! Congratulations to both award recipients!
---

Follow Cobb Parks, Recreation and Cultural Affairs programs on Facebook. Click link below for your program interests.
Mabry Park Master Plan
With the help of the Friends for Mabry Park, Cobb County Parks, Recreation and Cultural Affairs has completed the master planning process for Mabry Park. We appreciate all of the public input we received. To learn more about Friends for Mabry Park, visit www.mabrypark.org.
View Mabry Park location map here (pdf)
View Mabry Park Master Plan (5/24/11) here (pdf)
Leone Hall Price Park
Incorporating public input, Cobb County Parks, Recreation & Cultural Affairs has completed a Master Plan for Leone Hall Price Park, located on Stilesboro Road one mile east of Mars Hill Road.



View Master Plan here /

Please follow this link to send your comments.
Green Meadows Preserve Master Plan
Cobb County Parks, Recreation and Cultural Affairs has completed the master planning process for the Green Meadows Preserve (formerly Bullard-Stockton Property), located in west Cobb at Dallas Highway and Old Hamilton Road.

View Master Plan here (updated 9-22-09)
Get PINned

Conveniently register for parks programs from your
home or office with EZ-REG
Personal Identification Numbers (PIN) and Internet Log-in numbers are required to register using EZ-REG. To get PINned, visit any Cobb County Parks, Recreation and Cultural Affairs facility during normal operating hours and complete a Family Account Registration Form. You must show proof of residency.