About PRCA
Latest News
Events Calendar
Parks & Facilities
Programs
Photo Gallery
Employment
Contact Us
Downloads

Program Registration

General Information

Upcoming Events

Special Events
Civic Center
Anderson Theatre
Jim Miller Park
MHB Amphitheatre
The Art Place Theatre
Mable House Arts Ctr

Cobb County Parks, Recreation and
Cultural Affairs

Administrative Office:
1792 County Services Pkwy
Marietta, GA 30008
Phone: (770) 528-8800
Fax: (770) 528-8813

Hours: 8:00am – 5:00pm
Monday – Friday


Eddie Canon
Director


Terrence Ramsey
Recreation Services

Division Director
Terrence.Ramsey@cobbcounty.org

Benjie Brumbeloe
Parks Services

Division Director
Benjie.Brumbeloe@cobbcounty.org

Elizabeth Weaver
Arts/Cultural Affairs
Division Director
EWeaver@cobbcounty.org


Privacy Policy

Cobb County...Expect the Best!




Cobb County Parks, Recreation, Cultural Affairs Department
Arts | Athletics-Youth | Athletics-Adult | Aquatics | Community Ctrs | Golf | Gymnastics |
Natural Resources | Recreation Ctrs | Tennis | Therapeutics | Special Events | Special Olympics
---
Welcome!

It's hard to say there's nothing to do in Cobb County, whether you care to walk, ride, play or relax. If you like the outdoors, we have sports parks, walking trails and golf courses. If you prefer climate-controlled fun, we have indoor swimming pools, basketball gyms and even our own cultural centers. And if you just want to be entertained, world-famous acts regularly stop here to perform at our stage theatre or our outdoor amphitheatre.

We support team and individual play, coach individual excellence and sportsmanship and promote environmental awareness. Welcome to the Cobb County Parks, Recreation and Cultural Affairs Department, where fun is easy to find.
Click the banner below to view the lastest newsletter

Sign up here to receive the newsletter and county news alerts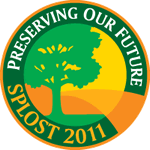 SPLOST 2011
Preserving Our Future

On March 15, 2011 referendum on a four-year SPLOST was approved by voters. This program will be in effect from January 1, 2012 thru December 31, 2015.
---

Cobb Archery Coach Receives Award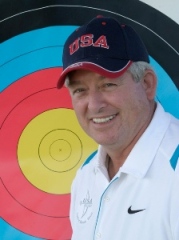 USA Archery, based out of Colorado Springs, honors excellence in coaching throughout the year. Nominees are submitted by archers, clubs, and peers in the coaching community, and certified USA Archery instructors and coaches vote to determine the winners. One of the four national winners is from Cobb County. Jim White has been named '2013 Developmental Coach of the Year' from USA Archery. As a Level 5-NTS Coach, and part of the Junior Dream Team coaching staff and International Team Staffing program, White has the opportunity to work with top athletes from across the country. However, he also coaches at the club level with the Kennesaw Archery Club and the Georgia Archery Team. His coaching record includes top international placements for Paralympians Lee Ford-Faherty and Anna Miscione, as well as strong national achievements for Sandra Kennedy and Doreen Likeness. Congratulations to Jim White for this prestigous award!
New Game in Town - Pickleball
Lost Mountain Tennis Center will be offering a new program called PICKLEBALL. We will provide some equipment that includes paddles and balls. If you have your own, feel free to bring them. The goal is to introduce players to the game and to schedule some play dates!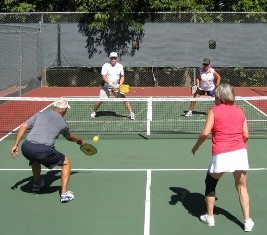 Pickleball is a sport played with a hard paddle and wiffleball. The game combines elements of badminton, tennis, racquet ball and ping-pong, and is played on a badminton-sized court. It is played as a singles game with one person per side or as a doubles game with 2 people on each side of the net. The object of the game is to score points by successfully hitting a 3" diameter plastic ball across the net without it being successfully returned by the opponent.

Pickleball is a simple game designed for all ages and any athletic ability level. Today the sport is played by people all across the U.S. Many seniors have taken up the sport in their retirement years, but it is also played by thousands of school children and top athletes in their 20s and 30s. It is an easy sport to learn and everyone can play the game after just a short time of hitting the ball back and forth across the net. However, it is also a sport where you can keep learning new strokes and increasingly sophisticated strategies for years on end. As the sport has grown in popularity it has continued to be played in back yards, but it has also spawned many competitive tournaments across the country.
Classes for Pickleball are offered at Lost Mountain Tennis Center. For more information, call Traci Thomas at (770) 528-8525. Come join the fun!
Silver Comet Trail Bridge Sections Under Repair
Six pedestrian bridges along Cobb County's 12.8-mile Silver Comet Trail will be closed to the public this winter while Cobb County Department of Transportation (CCDOT) crews repair or replace pedestrian bridge ends over Powder Springs Creek, Lucille Creek, Noses Creek, Olley Creek, Nickajack Creek and Cooper Lake Road.

The repair work, funded by the 2011 SPLOST, will result in consecutive closures of each pedestrian bridge from Jan. to April 2014, resulting in NO ACCESS and NO DETOURS across the bridges during construction. At the same time the pedestrian bridge work is being conducted, additional crews will be improving other areas along the Silver Comet Trail by repairing fences, drainage systems and grading. "The repairs will preserve the original historic pedestrian bridges," says Faye DiMassimo, Director of Cobb County Department of Transportation. "Once the work is completed, the pedestrian bridges will be reopened providing safe access to all who enjoy using them."

Cobb County officials strongly advise the public to pay close attention to all warning signs and stay out of CLOSED construction zones, as there will be severe drop offs, some as deep as ten feet, which could cause serious injury or death to anyone ignoring the posted warnings. Not every area under construction will be completed closed off to the public. CCDOT officials warn trail users to slow down when approaching all signs, and in areas not completely closed, and for bike users, be prepared to dismount and walk through. More work will be conducted on the Trail next spring where a rolling trail closure will occur as the entire Silver Comet trail is resurfaced. The combined projects will result in the Cobb County Silver Comet Trail looking like a new trail.

Built between 1890 and 1904, the 61.5-mile Silver Comet Trail follows the abandoned railroad line once traveled by Silver Comet train passengers traveling from Atlanta and Birmingham to New York, Philadelphia and Washington. CCDOT converted the trail into a scenic 12.8 mile paved multi-use trail in the 1990's. The County section of the trail begins in Smyrna and travels west through southern parts of the County.

Information and project updates will be posted at www.cobbdot.org or contact the project manager at james.hudgins@cobbcounty.org.
---

Follow Cobb Parks, Recreation and Cultural Affairs programs on Facebook. Click link below for your program interests.
Mabry Park Master Plan
With the help of the Friends for Mabry Park, Cobb County Parks, Recreation and Cultural Affairs has completed the master planning process for Mabry Park. We appreciate all of the public input we received. To learn more about Friends for Mabry Park, visit www.mabrypark.org.
View Mabry Park location map here (pdf)
View Mabry Park Master Plan (5/24/11) here (pdf)
Leone Hall Price Park
Incorporating public input, Cobb County Parks, Recreation & Cultural Affairs has completed a Master Plan for Leone Hall Price Park, located on Stilesboro Road one mile east of Mars Hill Road.



View Master Plan here /

Please follow this link to send your comments.
Green Meadows Preserve Master Plan
Cobb County Parks, Recreation and Cultural Affairs has completed the master planning process for the Green Meadows Preserve (formerly Bullard-Stockton Property), located in west Cobb at Dallas Highway and Old Hamilton Road.

View Master Plan here (updated 9-22-09)
Get PINned

Conveniently register for parks programs from your
home or office with EZ-REG
Personal Identification Numbers (PIN) and Internet Log-in numbers are required to register using EZ-REG. To get PINned, visit any Cobb County Parks, Recreation and Cultural Affairs facility during normal operating hours and complete a Family Account Registration Form. You must show proof of residency.