---
Aquatics News
Cobb Swimmers Excel
Cobb County Parks Aquatics unit has reason to be proud. Swimmers from Cobb County facilities have obtained international attention. Bryan Lundquist set an American record in the 50 meter Butterfly at Sectionals this Summer and in 2008 Bryan was a member of the 4 x 100 meter free relay that broke a World Record at the World Swimming Championships in Manchester, England. Swimmers Kristine Polley (Sprayberry High School) and Erin Reisinger (Walton High School) obtained Olympic Trial cuts in 2008 and joined Bryan at the 2008 USA Olympic Trails in Omaha. This year these three swimmers are preparing for the 2009 Swimming World Championships that will be held in Indianapolis this July.
All three swimmers are Cobb County Swimmers, getting their start with the Cobb County Summer Swim League and practicing at Cobb County Aquatic Facilities. Bryan (a 2003 graduate of Lassiter High School) finished his degree from Auburn University with a degree in Building Science. Kristine will swim for Florida State in the Fall. Erin is a Senior at Walton High School and is being sought after by a number of NCAA Division 1 swimming programs.
The Aquatics unit is nationally recognized as one of the best and received the 2007 National Recreation and Park Association's Excellence in Aquatics Award. Cobb has four indoor aquatic facilities located in Marietta, Northeast Cobb, West Cobb, and South Cobb, and two outdoor facilities in East Cobb and Powder Springs. You can learn more here.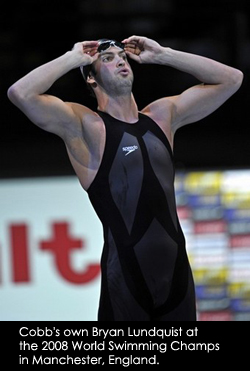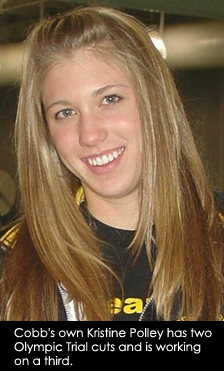 ---
The Aquatics Unit serves over 500,000 Cobb County residents annually, through four indoor aquatic centers and two outdoor pools. The unit has 17 full time staff and over 100 part time lifeguards which provides services including: the Learn To Swim Program; the Cobb Summer Swim Leagues; Aqua-Aerobics Classes; Adaptive Aquatics Programs; Military and Boy Scout training; Lifeguard Training and Water Safety Instructor; and general recreational swimming.
Cobb County has built 3 indoor aquatic centers and fully renovated the original Central Aquatic Center in 2003. The Board of County Commissioners funded these projects which totaled over 13 million dollars. Cobb County Parks Department continues to provide the Cobb County citizens with the best.
Aquatics Program Awards and Accomplishments
2007 NRPA 'Excellence in Aquatics'
GRPA Aquatic Section - Innovative Program Award
GRPA Aquatic Section - Professional of the Year
---
Outdoor Pools
Cobb County has two outdoor pools which open on Memorial Day Weekend each year. The water is clean, clear and refreshing. Sewell Pool is located at 2055 Lower Roswell Rd., Marietta, and Powder Springs Pool is located at 3899 Brownsville Road in Powder Springs.
---
Indoor Aquatic Centers Have Swim Lessons Available
Swim Lesson Sessions run all year long in our 4 indoor Aquatic Centers. It is best to call the center of your choice and inquire about the classes that are of interest to you. All of the Aquatics' programs for indoor and outdoor pools are listed in the Front Row Magazine, which can be viewed here.
---