Arts | Athletics-Youth | Athletics-Adult | Aquatics | Golf | Gymnastics | Natural Resources Recreation Centers | Tennis | Therapeutics | Special Events | Special Olympics
---
Cobb Civic Center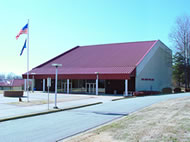 Jennie T. Anderson Theatre


548 S. Marietta Parkway
Marietta, GA 30060
Box Office: (770) 528-8490

Facility Manager:
The Jennie T. Anderson Theatre is a 606 seat performing arts theatre. The Jennie T. Anderson Theatre Encore Series each year brings in some of the top performing acts in the nation.
---
The Cobb Civic Center Complex consists of Hudgins Hall and the Jennie T. Anderson Theatre. Hudgins Hall hosts many types of events, including sporting events, collectors shows, graduations, and more. The Jennie T. Anderson Theatre is a performing arts stage that hosts concerts, plays, recitals and other events. For more information on Hudgins Hall, see the Civic Center - Hudgins Hall calendar of events.
The unique and distinctive features of these two facilities make their use applicable to many organizations.
---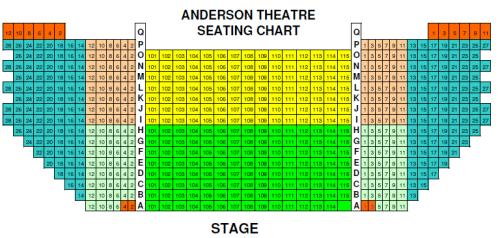 ---
JENNIE T. ANDERSON THEATRE
PERFORMING ARTS CAMPS
E.T.C. is the Exciting, Entertaining, Educational Theatre Company.
An energetic and fun camp for students who enjoy the performing arts and want to be on stage. Campers will rehearse a musical show to be performed for family and friends Friday Night. Campers should have an equal interest in singing, dancing and acting. ***No experience required—just high energy and enthusiasm. Performances are held at 7:00pm, on Friday night of each session.
E.T.C. Camp (A Performance Camp)
Rising Grades 3 - 9
Time: 9:00 am - 12:30 pm
Cost: $80.00/wk Cobb residents
$105.00 Non-residents
July 7-11 (barcode 65902)
July 14-18 (barcode 65903)
July 21-25 (barcode 65904)
Prompt is a musical theatre workshop camp---not a performance opportunity. Campers will work on their musical theatre skills in acting, singing and dancing through study in vocal technique, stage presence and good audition materials.
This Camp is an excellent follow-up for an E.T.C. camper.
Prompt Camp (A Workshop Camp)
Rising Grades 5 - 9
Time: 1:00 pm - 3:30 pm
Cost: $40.00/wk Cobb residents
$65.00 Non-residents
July 7-11 (barcode 65905)
July 14-18 (barcode 65906)
July 21-25 (barcode 65907)
---