Home


About PRCA
Latest News
Events Calendar
Parks & Facilities
Programs
Photo Gallery
Employment
Contact Us
Downloads

Program Registration

General Information

Upcoming Events

Special Events
Civic Center
Anderson Theatre
Jim Miller Park
MHB Amphitheatre
The Art Place Theatre




Eddie Canon
Director


1792 County Services Pkwy
Marietta, GA 30008
Phone: (770) 528-8800
Fax: (770) 528-8813

Eddie Canon
Parks Services

Division Director
ECanon@cobbcounty.org

Terrence Ramsey
Recreation Services

Division Director
Terrence.Ramsey@cobbcounty.org

Elizabeth Weaver
Arts/Cultural Affairs

Division Director
EWeaver@cobbcounty.org


Privacy Policy

Cobb County...Expect the Best!




Cobb County Parks, Recreation, Cultural Affairs Department
4845 Dallas Highway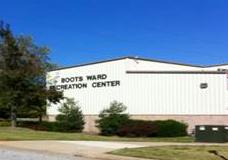 Powder Springs, GA 30127
(770) 528-8885

Facility Manager:
Office hours of operation
Mon.-Thurs. 12:00pm–9:00pm
Friday 12:00pm–6:00pm
Saturday 10:00am–3:00pm
Sunday Closed
Ward Recreation Center
Class / program registration
currently in progress
EZ-Reg available for most programs
---
Facility Description: Full size basketball court, conference rooms, chairs and tables, caterer's kitchen, ice machine, TVVCR, vending machines, handicap accessible
Facility Rentals: If interested in renting the facility, please contact facility staff at (770) 528-8885 for availability. Rentals are on a first-come first-served basis. Pricing and availability are upon request.
Open Gym: During open gym the public may play pick-up games or simply shoot hoops at no charge. Basketballs are not provided. Coaching or team practice is not allowed during this time. Hours may vary, please call for additional information.
---
---