Latest

Fall Festival of Fun

The Cobb County Parks, Recreation and Cultural Affairs Department along with Cobb County 4-H and the Cobb Safe Kids are hosting the 7th Annual Fall Festival of Fun on October 31st at Jim R. Miller Park. The event will begin at 4:00pm and end at 7:00pm. This event will provide the children of Cobb County a safe alternative to the traditional Trick-or-Treat in their neighborhood.

The Festival will include an array of entertainment: arts and crafts, games, inflatable rides, police and fire prevention activities, costume and coloring contest, a photo booth decorated just for pictures you may want to take and lots more for the entire families' enjoyment. Parking, admission, games, candy and contests are free. Kids - don't forget to bring a bag large enough to carry all your candy home. There is a small fee for concessions. For more information please call (770) 528-8875.
Red Ribbon Week At Ron Anderson Recreation Center
During the month of October the Ron Anderson Recreation Center will be celebrating Red Ribbon Week. Red Ribbon week is the week of October 20 – October 28. Events and activities will begin at 5:00pm.

Red Ribbon Week is the oldest and largest drug prevention campaign in the country. Red Ribbon Week serves as a vehicle for communities and individuals to take a stand for the hopes and dreams of our children through a commitment to drug prevention and education and a personal commitment to live drug free lives with the ultimate goal being the creation of drug-free America .
Event Schedule:
Monday 10/22/07 - Guest Speaker - Lt. Collins (Powder Springs Police Department)
Tuesday 10/23/07- Poster/Banner Day (Create your own Red Ribbon Poster/Banner)
Wednesday 10/24/07 – Games not Drugs (Card games - 'Spades' Tournament)
Thursday 10/25/07 - Community Leadership - DEA Agent Truesdell speaks to youth and Powder Springs Community Task Force Meet & Greet (6:30 – 8:30pm)
Friday 10/26/07- 5 on 5 Tournament/ Ice Cream Social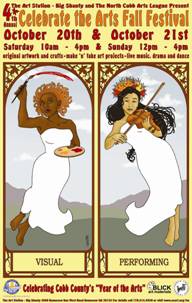 'Celebrate the Arts' Fall Festival
The Art Station – Big Shanty and the North Cobb Arts League invite you to our 4th Annual "Celebrate the Arts" Fall Festival. Join us on Saturday, October 20th from 10:00am – 4:00pm and on Sunday, October 21st from 12:00pm – 4:00pm. There will be artist demonstrations, a gallery exhibit, art for sale, make 'n' take art projects, food, and live entertainment including the Etowah Jazz Society on Sunday from 1:00pm – 4:00pm.
Special Olympics Georgia Fall Games
The Special Olympic State Fall Games competition will be held in Albany, GA October 12-14. Competition will be held in bocce, golf, long distance running and walking, and softball. A total of 120 athletes and 34 coaches will be representing Cobb at the games. There will be 3 traditional softball teams as well as softball skills athletes; 6 traditional 4 player bocce teams and 6 unified 2 player bocce teams; 8 unified 2 player golf teams playing 18 holes as well as golf skills athletes; and 6 long distance walking/running athletes who will compete individually in the 3K and 1 mile events. Cobb wishes our delegation the best as they go for the gold in Albany!!!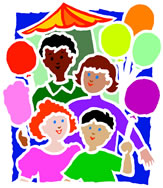 Family Fun Fest
The Cobb County Family Fun Fest will combine with the annual Cobb County Make-A-Wish 5K to make an event for the whole family on Saturday, October 13.

Registration for the charity 5K begins at 7:00am and the race starts at 8:00am. The course begins and ends at the Marietta Square. Registration is $15; children 12 and under are $10; groups of 10 or more are $12 each; and kids under 5 are free (no T-shirt). Registration after October 8 will be $20. All registered participants will receive a commemorative long sleeve T-shirt. 'Phantom' runners who want to participate in spirit can pay $20 and indicate their T-shirt size on the registration form. Proceeds from the race go to the Make-A-Wish foundation to help grant the wishes of children in Cobb County who have life-threatening medical condition. For more information or to register, visit CobbMakeAWish5K.org, or call (770) 528-2620.

The Family Fun Fest, which runs from 9:00am to 3:00pm, will include live music, arts and crafts, storytelling, inflatable carnival rides and free game booths with prizes. Admission is free. Government departments, including police and fire, will be on hand to give interactive presentations. Cobb County and the City of Marietta are co-sponsors of the event. Magicians, balloon artists and face painters will roam Marietta Square throughout the day.

The Cobb County and Marietta school districts will also partner in the event and distribute health-related materials. For more information call (770) 528-8800.
Cobb County Library book sale at Jim Miller Park
The Friends of the Library will host the semi-annual book sale October 12-14 at Jim Miller Park. More than 100,000 items will be for sale, including both hardbound and paperback books for children, young adults and adults; audio-visuals including books on tape and compact disc; videocassettes; compact discs; records; magazines; and comic books. Prices range from 10 cents to $1. Book sale times are: Friday and Saturday, 9:00am to 5:00pm; Sunday, 1:00pm to 5:00pm.
75th Annual North Georgia State Fair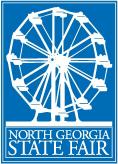 The 75th annual North Georgia State Fair will run from Thursday, September 20th to Sunday, September 30th . As the largest fair in metro Atlanta, the fair attracts nearly 300,000 people every year from North Georgia and neighboring states. The fair features flower shows, blue ribbon competitions, farm animals, local square dancers and singers, fair foods, free attractions and shows and the Great James H. Drew Exposition – one of the largest carnival midways in the U.S.
A covered arena guarantees concerts in rain or shine, including appearances by great country and contemporary Christian artists. Headlining the free concert series this year are: Little Big Town on Friday, September 21st at 8:00pm; Sammy Kershaw on Saturday, September 22nd at 8:00pm; Marc Henderson on Sunday, September 23rd at 7:00pm and Dottie Peoples at 7:45 pm; Blake Shelton on Wednesday, September 26 th at 8:00pm; Craig Morgan on Thursday, September 28th at 8:00pm; and Chris Cagle on Saturday, September 29th at 8:00pm.
New to the North Georgia State Fair this year, is All the King's Horses, is an amazing show featuring some of the most athletic, graceful and regal horses in the world. The exhibition showcases breeds of horses used by nobility long ago, including Arabian, Andalusian and the Royal Lipizzaner Stallions of Austria.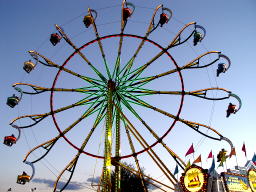 Back again this year are, Keith King BMX Bike Stunt Show, Robinson's Pig Paddling Porkers, Oscar the Robot, The Human Cannonball, Brian Ruth the Chainsaw Master and Frisco Brothers Petting Zoo and Pony Rides.
Monday through Thursday, times are 4:00pm to 11:00pm , Fridays 4:00pm to midnight, Saturdays are 10:00am to midnight, and Sundays are 12:30 pm to 7:00pm.
Admission for the Fair is $5 for adults, $2 for students ages 7-18, free for children 6 and under. Ride tickets are $1 each, $20 for 22 tickets and $50 for 55 tickets. All rides require more than one ticket. Parking is $3. The pay-one-price-ride special includes unlimited rides (for dates 9/20, 9/25, and 9/26 only) for $18 and $15 (9/24 only). Concerts are free with fair admission. For more information, please visit the North Georgia State Fair web site or call (770) 423-1330 or (770) 528-8989 after September 3rd.
Rivers Alive 2007
Come join 'Keep Cobb Beautiful', Cobb Parks, Recreation and Cultural Affairs and the Cobb Water System to help clean up Olley Creek located in Sweetwater Park. We will clean up the creek and the over grown trails. There will be a Snake Education Program, free lunch and free T-shirts. The event will be held September 29, 2007 . Sweetwater Park is located at 2447 Clay Road in Austell. To participate, please RSVP at KeepCobbBeautiful@cobbcounty.org or to (770) 528-1135. RSVP deadline is September 21st.
---
---